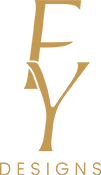 Created by a loving mother, grandmother and driven professional.
Ann started her journey in retail at the age of 16 and continued in fashion for the next 15 years. Following that she began her career in commercial Real Estate which has continued for the past 27 years.
While she'll always dwell in her love for Real Estate, her second passion is for fashion design and retail, and so began her endeavor to create a brand focused on meaningful jewelry.
Ann's mission is to empower women through the creation of FY Designs. Her pieces aim to make you feel good through the vibrant colors and understated earthy tones alike. Each collection was designed to be fashionable yet elegant and feminine.
Ann continually lives by three core values: family, fashion, and hard work. Empowered with creativity and the love of all thing's gold and crystal, she proudly presents FY Designs.